Let's talk about grass … No, not the kind you'll find on your lawn or the smoking kind!
Let's talk about the aromatic grasses in the family of Poaceae (or formerly Gramineae).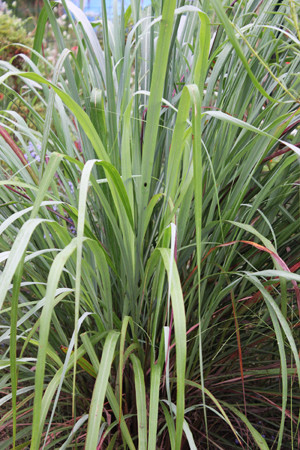 Some interesting facts about this botanical family:
They are known as the nutritious grass family.

Grasses are one of our most important sources of fiber.

They are the most successful of all flowering plants.

Wheat, rice, corn, and barley are the most well-known leaves and seeds

They're often used as ground covering and have a large root system.
The Poaceae family (formerly known as Gramineae) has 737 genera and 7,950 species which are distributed throughout the world. However, the plants grown in the tropics are grass-like and produce scent! These are the ones we like.
In fact, so many of the essential oils you may know and love come from this family.  These include plants like: Lemongrass, Palmarosa, Citronella, Gingergrass from the genus Cymbopogon, and Vetiver from the Vetiveria genus. These are the oils most commonly used from the Poaceae (or Gramineae) family. We have several to choose from—each with slightly different scents depending on where they're grown.
Getting to know the botanical names and families of the oils you're using really helps to expand your understanding of them.
Here are some examples of the the aromatic plants from the
Poaceae
family:
Cymbopogon citratus (Andropogon citratus, A. shoenathus): Lemongrass (West Indian)
Cymbopogon flexuosus (Andropogon flexuosus): East Indian Lemongrass
Cymbopogon martinii (Andropogon martinii): Rosha; two eco-chemotypes:
var.

martinii

(var.

motia

):

Palmarosa

, motia, East Indian Geranium, Turkish Geranium, Indian rosha

var.

sofia

: gingergrass, sofia
Cymbopogon nardus (Andropogon nardus): Citronella, two varieties exist:
var. nardus: Ceylon Citronella, Lenabatu Citronella

var.

confertiflorus
Cymbopogon pendulus (Andropogon pendulus): Jammu Lemongrass
Cymbopogon winterianus: Java Citronella
Vetiveria zizanoides (Andropogon muricatus): Vetiver, khus khus, vetivert oil
If you're an essential oil user,  you're likely to be familiar with at least one of these oils!
What Grasses Do
The Cymbopogon genus comprises over 50 species of tropical grasses, many of which are essential oil bearing; Lemongrass, Citronella, and Palmarosa in particular. These oils are mostly comprised of components from the chemical families of aldehydes and alcohols; they include citral and geranial, and they must always be diluted appropriately. We recommend no more than 15 drops per ounce for a normal adult with healthy skin, but less could easily be used and still produce similar effects.
When we look at their actions, we can summarize a few things about the aromatic oils in this family: they are air-cleansing, calming, sedative, restorative, and refreshing.
Their domain of action on the human body systems are:  
respiratory (disinfectant)

circulatory and digestive stimulant

skin tonic
Indications for use:
deodorize air

calm digestion

cleanse and balance skin (acne, etc.)
Do you have a favorite of the grasses? What do you like to use Lemongrass, Citronella, Palmarosa, and Vetiver for?
Leave us a comment on how you use your grasses! We love reading your comments and seeing how creative and insightful you all are. Thank you for adding to the discussion.
---
Sylla's Lemongrass recently went to seed and it ready to start propagating again. Check out this preview of one of her Yarden Walks. (See the full video in the Inner Sanctum)